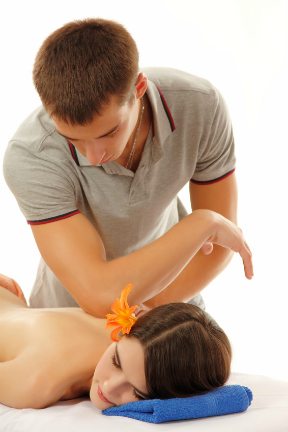 Looking for a Oceanside Deep Tissue Massage ? At Royal Thai Healthy Body, you can rest assured we are one of the highest rated massage clinics in the North County San Diego region. Deep tissue was created to ease and loosen muscles that have a temporary condition know as adhesion or "Knot"  in the connective tissues. The treatment of a Deep Tissue Massage should be performed by a licensed massage therapist.
What is a Deep Tissue Massage ?
A deep tissue massage is a therapeutic type of massage for clients dealing with chronic pain, are recovering from injury, or someone who participates in heavy physical activity on a regular basis. During a broad portion of the massage, deep pressure is maintained on a area to relieve the muscle tissue from binding up and creating "knots".  A very clinical set of techniques are used during your deep tissue massage, and a specific attention is dedicated to muscle fascia, which is the connective tissue that joins muscle fibers. Royal Thai Healthy Body uses the time during your deep tissue massage to focus in on the problem areas you are experiencing.
Will My Deep Tissue Massage Hurt ?
During particular parts of the deep tissue massage, you may experience discomfort, as our therapist works out problem areas. For all Oceanside Deep Tissue Massage clients, we consistently communicate with our patients which allows us to know your discomfort threshold. After your Deep Tissue Massage, you may feel sore for a day or two, as your muscles need time to recover from this therapeutic form of massage. Royal Thai Healthy Body takes great pride in our work, call us to schedule an appointment (760) 622-1644