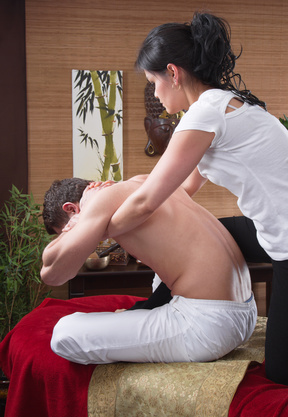 Thai Massage a Healing Art – Thai Massage Therapy
Thai Massage is an energetic combination of yoga stretching, with the calmness of meditation, acupressure, exercise movement and reflexology that makes it a healing art. It is worked on a floor, platform or table with the client dressed in comfortable loose clothing. Thai massage uses mainly point pressure and muscle stretching. And it is not just the hands that are used to free tension stored in the recipient's body, but the feet, knees, elbows and forearms are used as well.
So, finding a Thai Massage clinic in Oceanside that features therapists trained and certified in Thailand is few and far between.
---
Thai Massage Therapies Include:
Acupressure

Body work

Chiropractic

Indian head massage

Manual lymphatic drainage

Massage therapy

Myotherapy
Naprapathy

Osteopathic medicine

Postural Integration (PI)

Structural Integration

Shiatsu

Watsu

Yoga Massage
---
Thai Massage Benefits
Ultra Relaxation

Stress Reduction

Circulation Improvement

Increases Range of Motion

Energizes Mind & Body
Royal Thai Healthy Body brings a luxurious exotic massage to North County San Diego. Our training and customer reviews are absolutely unmatched, and we will continue to be a leader in Thai Massage in Oceanside, and San Diego as a whole. To schedule an appointment call us at (760) 722-1644
---
History of Thai Massage
Believed to be over 2000 years old, traditional Thai massage is an authentic healing art and unique form of body therapy developed by people who use massage not only as a therapeutic method of healing to treat illnesses, but to maintain health and well-being.
The combination of energetic and physical aspects is what makes Thai Massage unique and so effective. Traditional Thai massage is really a deep, full-body treatment, starting at the feet and progressing up to the head. Using a sequence of gentle, flowing exercise movements, the recipient's body is moved, loosening and stretching (some stretch applications linked to Yoga) the joints and the muscles. This unique type of massage influences the energetic side as well, restoring the flow of energy throughout the body with applied pressure on the sen energy lines of the body, aimed at harmonizing and energizing.
This holistic and therapeutic form of assisted stretching and acupressure along with established energy flows has become world renown. Often referred to as the "Kings Yoga' Royal Thai Healthy Body's founder Supreeya Paensethong was born and raised in Thailand, and a graduate of the world renowned Wat Pho School of Thai Massage .
Understanding how to implement all the critical elements for a Traditional Thai Massage is something most San Diego Thai Massage clinics do not address or give to their customers, making Royal Thai Healthy Body stand out among our competitors.